One day in mid-December a coworker and I were sharing details of food perks associated with our husband's jobs. My coworker, who's husband is a trucker, had a list a mile long of all the different types of produce and frozen goods that somehow get rejected on destination. I only had one to share, the time my husband came home with piles of microwave popcorn. As I

was stating

that I don't even eat the stuff and it was sitting in our pantry, an idea came to mind

;

why not pop it all into candy popcorn gifts for the holidays?

I decided to research a recipe and found Smitten Kitchen had a great recipe for sweet and spicy popcorn. On my first trial I overcooked the caramel and the spicy heat just wasn't the style I was looking for when it came to gift giving. So I modified the recipe to suit my tastes.


Sweet & Salty Candy Popcorn
(adapted from Smitten Kitchen's Sweet & Spicy Popcorn)


Makes 4 quarts



Nonstick cooking spray or vegetable oil
2 bags of microwave popcorn
3 cups sugar
3 tablespoons unsalted butter
1 tablespoons salt
1 1/2 teaspoons baking soda
1 tsp vanilla extract
2 cups salted peanuts (optional)
Lightly coat heat-proof rubber tongs or 2 spatulas, a very large mixing bowl and two large baking sheets with nonstick cooking spray or a thin slick of oil.
Microwave popcorn according to instructions. Transfer to the prepared bowls, removing any unpopped kernels.
Have the two large baking sheets ready.
In a medium saucepan, combine the sugar, butter, salt and 1/2 cup water. Cook over high heat, without stirring, until the mixture becomes a light golden-yellow caramel, 10 to 14 minutes. Remove from the heat and carefully whisk in the baking soda & vanilla (the mixture will bubble up).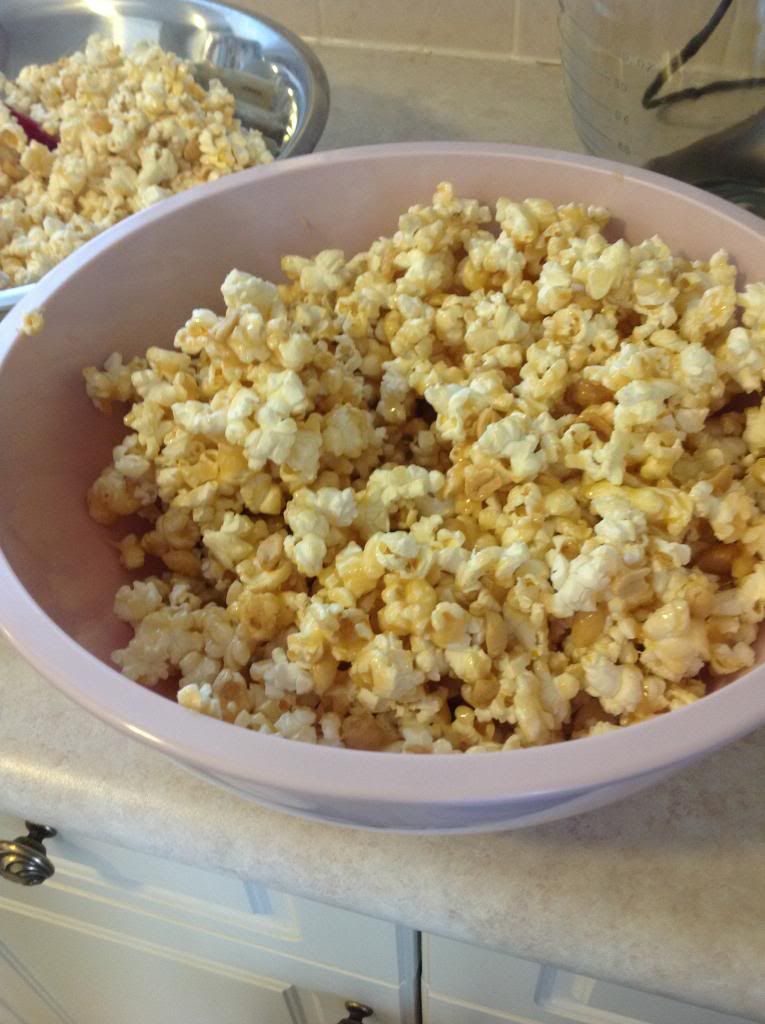 Immediately pour the caramel mixture over the popcorn and don't fuss if it doesn't all come out of the pot — you'll have plenty. Add peanuts on top if using. Working quickly and carefully, use the prepared tongs to toss the caramel and popcorn together, as if you were tossing a salad, until the popcorn is well coated.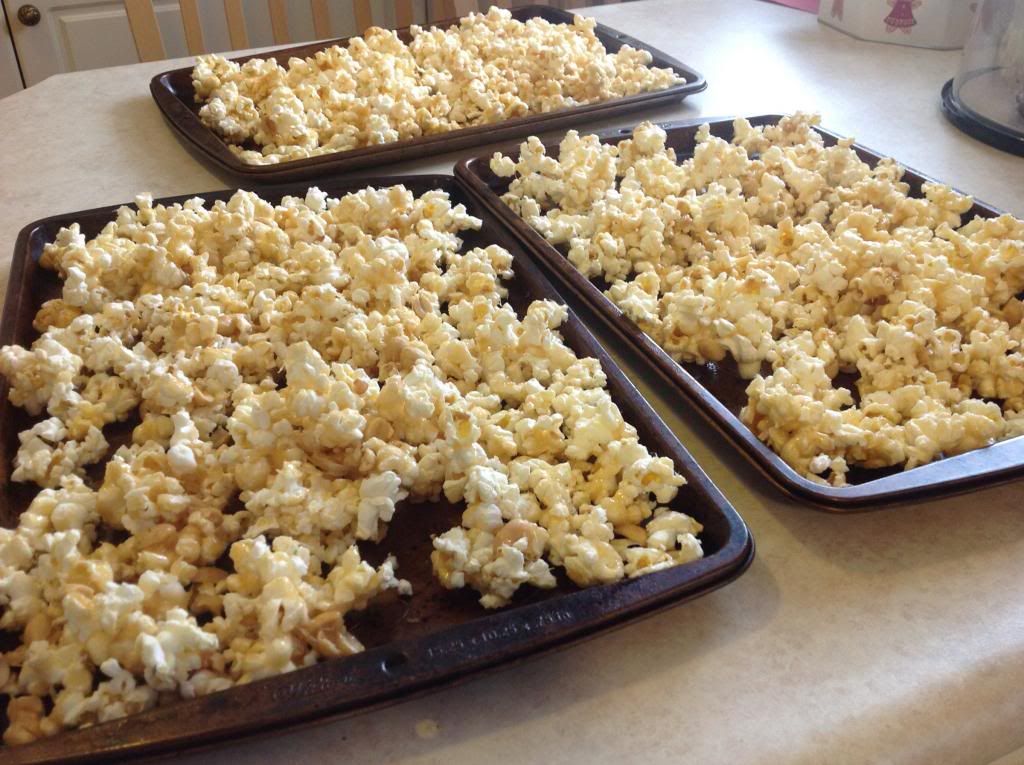 Spread the popcorn onto the baking sheets and quickly separate them into small pieces while still warm. Cool to room temperature, about 15 minutes. Once cool, store in an airtight container for up to two weeks.
This recipe is so easy I managed to make 5 batches over the holidays. I was tempted to do a little more research to try and figure out what temperature the caramel must reach to be 'optimal' but a new candy thermometer was on my christmas list I just had to make the best of it. But and no matter what, it always worked out as long as it was left to cook till it turned golden yellow (yes, it's very forgiving). The clean up is also just as forgiving. I'll never forget making peanut brittle 8 years ago and nearly ruining my favourite sauce pan and giving up on a wooden spoon I just threw away over attempting to clean. This caramel needs only to sit for a few minutes in warm soapy water to dissolve away.